Connacht Hockey

News Report
U16 Interpro Recap
Author: Cathal Duggan (U16 Coach), 25/09/19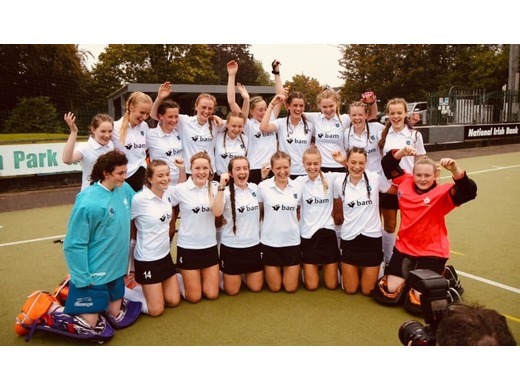 The U16 team, which consisted of 14 players making their debut, began the competition on Friday against Munster. This was a difficult start as when both teams had played each other in July where Connacht had lost 4-1 and 7-0. However Connacht flew out of the blocks and dealt well with the Munster initial threats. By half time Connacht were beginning to get on top of their hosts. A break through goal was disallowed in the third quarter and instead Connacht were given a short corner. While Connacht continued to push and spurn a number of chances the goal they deserved never materialised and the game ended 0-0. In the shuttles Connacht showed great composure and won with a shuttle to spare to claim the two points on offer.
On Saturday morning Connacht faced South East and again mad a strong start finding a goal at the end of the first quarter. However, South East came back strong and equalized during the second quarter. Connacht showed great maturity to gain a foothold back in the game and eventually in the third quarter found the lead. In the final quarter Connacht kept pushing while also withstanding strong pressure from South East to confirm a 2-1 win.
This left Connacht sitting top of the interpro's and by the time of playing Ulster it had turned into a straight shootout between the two teams. Ulster had a perfect record in their opening games beating South East and Leinster while also not conceding a goal up until this point however their metal was tested when Connacht went 1-0 up in the second quarter while also playing the better hockey. Ulster regrouped and showed their quality to not only draw level but jump into a 3-1 lead. However, rather then sit back and accept the result Connacht took their goalie out for the final 13 minutes and pushed to try and get back into the match. This pressure lead to Ulster conceding their second goal of the competition and being pegged back to 3-2. Ultimately Ulster did show their champions quality and stayed calm to score into the empty Connacht goal to seal a 5-2 win for the Ulster side.
This result meant Connacht and Leinster were competing for second place in the final game on Sunday. Connacht flew out of the blocks and were unlucky not to have a stroke in the opening minutes of the game. Leinster settled after Connacht's strong start and scored a good corner goal, all be it against the run of play. In the second quarter Connacht however stepped up again on Leinster and the pressure eventually told as Connacht scored to level the game. The game ebbed and flowed with Connacht having many fine chances that narrowly missed and just like the Munster game that all important goal that was deserved by their work rate and dominance never came. In the shootout Leinster showed great composure to seal the two point win.
At the final whistle Connacht could not hide their disappointment at only drawing with Leinster and securing third spot however on reflection this crew of players will have a lot to be proud of, not only in the manor in which they played hockey but more importantly how they pushed every team they played against.
Follow the site to get the latest news and results straight to your email